Bähler

Located in Sherbrooke, Quebec, Bähler provides its customers with high-quality solutions for biogas tanks for the agricultural, municipal, and commercial sectors. Bähler has a long history in agriculture and have been specializing in the construction of all types of livestock buildings for over 25 years. Bähler began building biogas tanks in 2008, starting with agricultural projects in Ontario and since then has been involved with many of the bigger biogas project in Quebec and Ontario.
Originally farmers, the Bähler family immigrated to Canada in the late 1960s from Switzerland. They started a construction company in the 1980s building large barns and commercial buildings and decided to get involved with biogas projects after taking notice of the successful biogas market in Europe. Felix Elbert has been Manager of the Biogas Department at Bähler for the last three years bringing his extensive industry knowledge from nearly a decade of working in Germany with one of the biggest biogas plant suppliers in Europe. Since Elbert joined the Bähler team, they have built a 1 MW plant in Grimsby, ON, the municipal SEMECS project in Varennes, QC and a 500kW project close to Peterborough, ON in partnership with Yield Energy and Miller Waste Systems. Currently Bähler is building a plant in the Maritimes and two agricultural biogas projects in Ontario.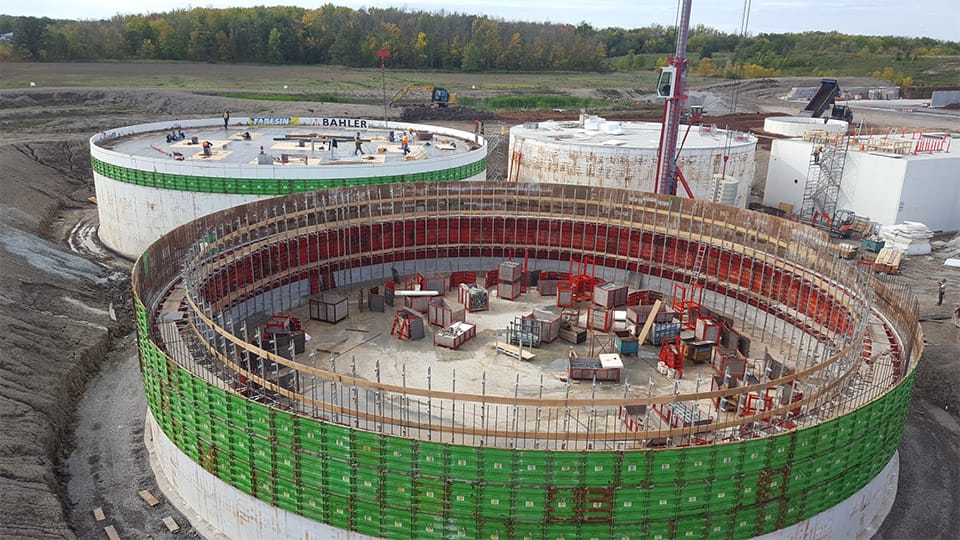 Bähler uses a unique process in North America for the construction of sewage treatment containers and circular digester tanks using exclusive formwork technology from Europe. The reusable steel formwork is easy to install and the process eliminates the need to have tie-rods passing through the structure. The risk of leaks is greatly reduced by the absence of tie-rods and the smooth finish of the tank improves the operational efficiency of the installation. The flexibility of the formwork allows for insulation, anti-corrosive membranes, and hot water heating to be integrated directly into the concrete structure. With their formwork, Bähler can build almost any size or volume of digester, from 7 to 40 metres in diameter and up to 30 metres in height.
Elbert shares that Bähler is interested in continuing to apply their design and technical expertise to municipal and commercial projects. On the outlook for biogas, Elbert observes that "An emerging option is for municipalities to hook up biogas plants to wastewater treatment plants to reduce costs. This could be a great opportunity for business in the future."
Bähler joined the Canadian Biogas Association as members in March 2017. Elbert notes they joined to connect with the biogas network in Canada and find interested contractors and project partners. In fact, Elbert found the contractor for one of their current projects while attending the Value of Biogas East 2017 in Toronto, ON.
---